About
Sailing is a passion since we were kids. We've owned a Hobie 17, Hobie 18, Corsair F28R, J24 and a Catana C381 and have cruised and raced on various sailboats over the years up and down the East Coast. Some notable events:
2019 - Cruised over 600 miles on the Chesapeake Bay aboard Silver Star (Catana C381)...see the recent videos
2019 - NERYC Moonlight Regatta, Dehler 39, Enigma(main), 2nd place http://www.neryc.com/documents/Sailrace/2019%20Full%20Moon%20Sail%20Race%20-%20Final%20Results.pdf
2017 Chesapeake Bay High Point Distance Races (St Mary's Governor's Cup, Cup, Annapolis to Miles River, Eastport Yacht Club Boomerrang, Race to Baltimore), J109, Rosalita, 1st place overall (main, spin) http://www.phrfchesbay.org/page/results/DistanceSeries
2017 -Storm TriSail Block Island Race Week, J109 North American Championship, Rosalita, 12th of 21(Spin trim) https://www.yachtscoring.com/event_results_cumulative.cfm?eid=2954&RaceClass=J%20109%20North%20American%20Championship
2015 - J109 East Cost Championships - Red Grant Regatta, Rosalita, 2nd place (main and spin) https://www.yachtscoring.com/event_results_cumulative.cfm?eid=1243&RaceClass=J/109
2015 Storm TriSail Block Island Race week, J109 Rosalita finished 12th of 25 (Main & Spin Trim) https://www.yachtscoring.com/event_results_cumulative.cfm?eid=1218&RaceClass=J%20109%20OD
2004 J24 East Cost Championships Riptide
2001 J24 Midwinters Davis Yacht Club, Riptide
1997 Easter Regatta, J24 Columbia South Carolina Riptide
1997 J24 North Americans Key West Race Week, Riptide, 25th of 46 Designer Fleet http://j24forum.org/usa/racereps/xximidwinter/midwinter0.htm
1997 J24 East Coast Chanpionships, Riptide (main)
1996 - 17th Annual Thistle DelRipett Regatta, 3rd Place (helm)
1996 - 1998 - Lots of J24 Racing, Havre De Grace Yacht Club, Silver Star (1st keel boat owned)
1996 - Cruise from Mystic Seaport to Fairlee Creek, Chesapeake Bay (Long Island Sound and Offshore), Caliber 38, Ryan's Daughter
1992 - 96 - Lots of Thistle Racing, New Castle Sailing Club
1986 - 1989 - lots of Hobie Cat racing in Atlantic Highlands Hobie Fleet 250
Some interesting reads from past regattas:
1997 J24 Midwinters lineup - The talent in the assembled fleet is exceptionally deep with at least 5 boats which could be considered the pre-race favorite. The reigning Italian National Champion Vasco Vascotto, who was second in the 1997 Worlds, has chartered a top boat. 1997 North American Champion Terry Hutchinson, who has finished 2nd in the Worlds several times, has his crew from the NAs with him. 1991 North American Champion Geoff Moore is sailing Ralph Devivo's boat. Tyler Moore of Hyannis, MA, sailing Peter Ryan's P.T. Blister was the Cinderella story of the 1997 Midwinters, and won the 1998 District 2 Championship. And Chris Larson, 1996 World Champion, will be sailing with 1997 World Champion Vince Brun as his crew! These 5 boats will be using sails from 4 different sailmakers - the competition for bragging rights will be fierce.
Beyond the five mentioned there are several boats which could easily step to the podium to accept the top trophies next Friday. Waleck Zaleski, Jay Miles (sailing Mookie, the boat with which Ken Read won the 1992 Worlds), Jim Beatty, and Will Crump have all shown their ability to win.
The weather forecast is calls for warm, sunny days in the early part of the week.
http://j24archives.com/wp-content/uploads/2015/10/Vol.-38-Spring-1997.pdf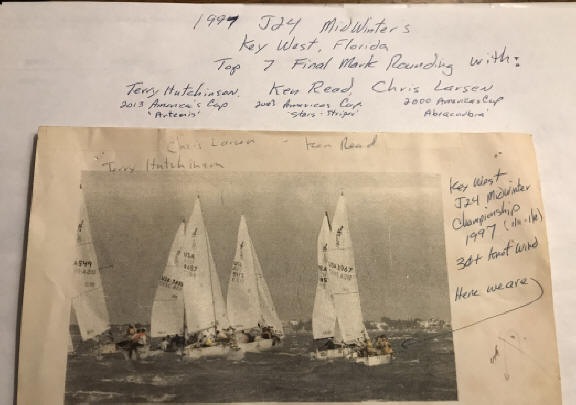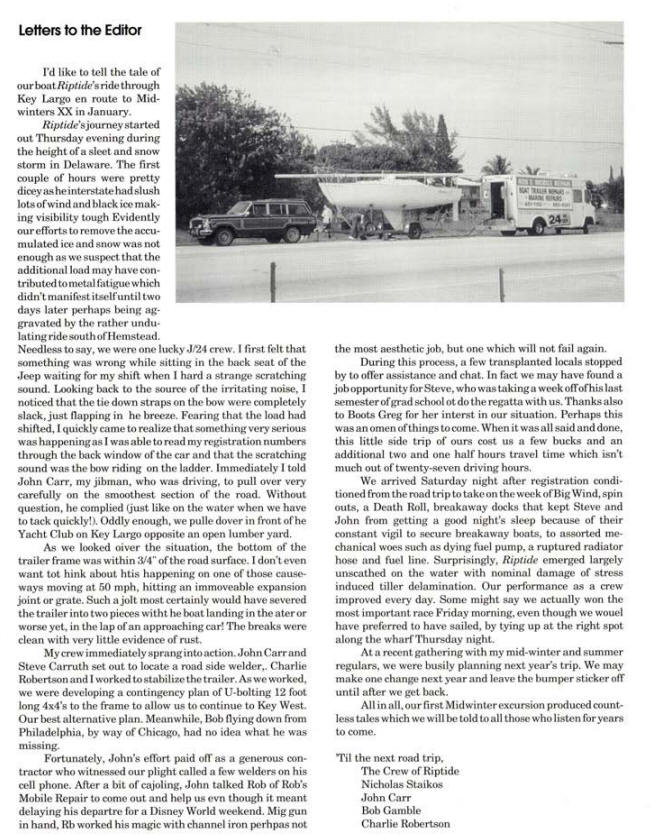 I have maintained Silver Star for over 15 years and know quite a lot about salboat systems.
About Me
Enjoy sailing and crusing on a sailboat. It's really that simple.